Our Portfolio
Our Portfolio
Every creation is has a story.
Since every customer has very specific needs, we believe strongly in going on-site to understand the mechanics and engineering at work. This is how we are able to implement practical, cost-effective solutions that make our customer smile.
And that's why we also love our job so much.
Below are some of the stories we love to share:
Back to Basics – A "Pen" that Loads
A customer approached us with the need to improve on an existing loader mechanism in his production line.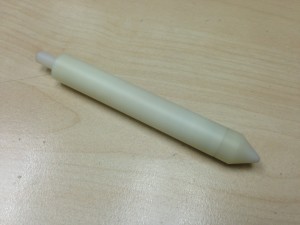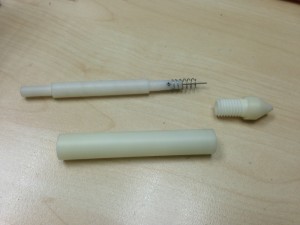 The loader had to possess the following characteristics:
Ambidextrous (both a left-handed or right-handed operator could use it)

It should be a single-action rather than double-action process

It had to be easy for the employees to resolve simple malfunctions without activating us

It had to be ergonomic for a female operator to grip and handle
After we presented the prototype, we realized that if the loader failed to function properly, it would call for an entire replacement. This will not only be costly but also cause an interruption to the production line while awaiting the replacement(s) to be delivered.
So we went back to the basics and decided to study the mechanics of a ballpoint pen. It was made up of a few parts that could easily be dismantled and even be replaced. For example, if the pen ran out of ink, one could easily purchase a refill at the stationery shop.
We then thought of applying this idea on the loader – create it into several parts that can easily be taken apart and replaced. Thus, modeling after a simple pen that is used everyday, we were able to provide our client with a cost-effective solution.
We also further tweaked the design ergonomically. The final product was shortened to about 1/3 its original length. This allowed the female operator to grip it easily and load without having to stretch a thumb too far. Whether left or right-handed, the operator would be able to use it with ease.
We are pleased to have fulfilled the needs of this customer as we have helped them to save time, money and improve work productivity.
An IKEA-inspired Cabinet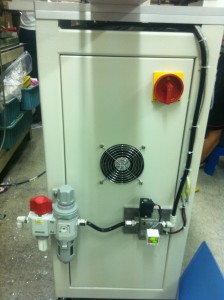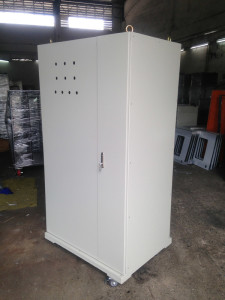 This client required a storage cabinet for commercial hard disks.
While such a solution is available off-the-shelf, it would not be able to accommodate the equipment that was intended to be stored in the cabinet. At the same time, the restricted space of a pre-fixed cabinet would also not be forgiving when wiring or maintenance works needed to be carried out.
It would have to be:
In customized dimensions to store and protect the equipment

Easy to move around when necessary

Flexible enough for wiring works or maintenance to be carried out
Like any IKEA furniture bought from the store, we decided that the cabinet would have to be easy to dismantle when needed. This will allow wiring or maintenance works to be carried out by our client without feeling constricted. At the same time, it would also be easy to put back together.
The materials we used ensured that the cabinet would not fall apart even after multiple times of dismantling and reassembling.
We're glad to have satisfied this customer by providing a personalized, yet practical solution to enhance operations.